​
Lidia Yuknavitch grew up being what she calls a "misfit". She felt like she didn't belong. She grew up going through violence and tragedies. She believes that her experiences made her a misfit. She was abused, she had lost a baby, she has gone through divorces, been to jail, and left school a few times. Today, she is an author and teacher. She tells her stories to others hoping to help them find themselves while she herself is on a journey of self-discovery.

Holden Caulfield is a misfit according to Lidia's definition. He didn't fit in well anywhere. He was different. He too has gone through a traumatic event. He lost his kid brother to the deadly disease, leukemia. After his brother's passing, Holden was never the same. He didn't form many close emotional bonds. He is only close to two people: his little sister Phoebe, and his old friend Jane Gallagher. Other than these two, he didn't stay close to anyone, not even his parents. Holden was kicked out of three schools because of his failing grades. When it comes to school, Holden does not apply himself. He didn't care much about school or his future. He thought different and acted different. He wasn't always the type of person people wanted to be around. He distanced himself. He was smart, in a way. He wasn't book smart, but he did think very deeply about somethings. When he was talking to his sister when he snuck home, he told her what he wanted to do with his life. He told her that he wanted to be "the catcher in the rye". He wanted to protect kids from the dangers they don't see. He thought of their innocence. He cherished the innocence of childhood. He wanted to protect their innocence from the not-so-innocent world. He definitely different from other people he knew. Most of the people he knew wouldn't have thought about all of that. They wouldn't think to protect the children's innocence, but Holden did. He may fail at school and at preparing for the future, but, as Lidia says, "Even at the moment of your failure, you are beautiful. You don't know it yet, but you have the ability to reinvent yourself endlessly. That's your beauty." Holden was given another chance. He got another chance to start at a new school and have people pay attention to him and help him on his way to finding his path in life. He was given the chance to "reinvent" himself. Maybe now he will show that beauty.
Powered by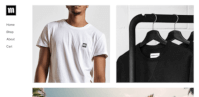 Create your own unique website with customizable templates.