Are you what your actions make you

Shaka Senghor is a man who spent a lot of time in prison for killing a man. He was a smart kid, an honor roll student. Then, at age 17, he was shot on his street. From that moment on, he made many bad decisions and did illegal things. He was a drug dealer and he ran black markets. In prison, he went through a transformation. He started to become a better man, and did things to make him a better person, like reading literature, writing, and learned from other inmates a better way than the way he was going. He talks about how his actions don't make him a bad person nor shape his future. Now, he helps others go through the transformation he did. He helps others live better lives than what they have been living.
This relates to 12 Angry Men because Shaka grew up in a way similar to the boy who was accused of murdering his father. The difference is, Shaka did commit the crime he was accused of, but the boy in 12 Angry Men did not. The court originally blamed the boy's past for the potential murder. They thought because of his past actions, he was a bad man. Shaka's experience proves otherwise.

Powered by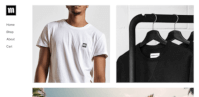 Create your own unique website with customizable templates.